Becoming a Kid Credit Union Member
Become a member today!
During the holidays, there is a good chance you're going to get some money as a gift. So now is a perfect time to learn how to open up an account at your credit union so you have some place safe to save you money and let it grow with interest. Here's what you'll need to do to open up your first savings account!
Step one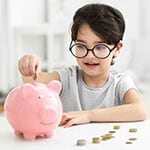 Talking to your parents is your first step in opening a savings account. There are a few things your parents have that you'll need to help open your account.
Your birth certificate or a passport

Parents' or guardians' identification (drivers license or passport)

Social security number
Once you've talked to your parents and collected the things you'll need, it's time to move on to the next step.
Step two
Picking your credit union might be the easiest part. You're probably going to go with the one your parents use. Why? It's convenient and they already know your family.
Step three
Deposit your money. Since you probably won't be issued a debit card, you'll need to go to a teller to deposit your money into your new account.
That's basically it. Now you're a member of your local credit union!
What else should you know?
You might need a parent to help you withdraw money from your account, depending on how old you are and where you live.

Some credit unions let a grandparent or other relative open an account for you. This is sometimes done when a baby is born. The account can then be accessed by you and your parents.

Anyone can put money into your account.

Some credit unions have a policy where accounts are made dormant after they haven't been used for an extended amount of time.
Why you need an account
It's important to learn about saving. Each time you get a gift of money, set some aside and put it in your account. Not only does this money grow, but it also teaches you about delayed gratification—waiting to spend money on something until you can afford it.
Learning to save can also teach you about reaching goals. You don't want to constantly empty your account, so saving until you have the amount you need to buy something, and then waiting until you have more than that in your account is a good idea.